Here is my latest project I've created using My Pink Stamper's newest punny stamp set. This set is great if you are using any kind of birds. This set will be released VERY VERY soon. You can start checking her website for her announcement on when these will be released.
Well on to my project. We have yet ANOTHER member in our family that is expecting.
I made this card using the Straight From the Nest cart. I cut the nest on brown paper at 4 inches and the eggs on teal paper also at 4 inches. I kept the Real Dial Size button off because those eggs would've been gigantic! I used a different shade of brown for the card itself. I used SU chocolate chip cardstock and cut it at 5 1/2 x 8 1/2 and the teal paper was cut at 5 1/4 x 4. I stamped the sentiment with chocolate chip ink.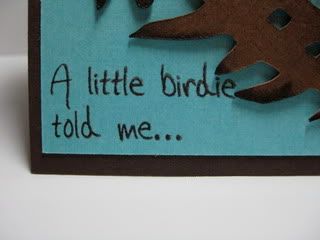 With the same colored ink and a makeup sponge I inked the edges of the nest. I did some heat embossing on the eggs. I used the eraser end of my pencil, dipped it in the embossing ink, sprinkled white embossing powder, and applied heat with the embossing tool.
Keep your eyes out for the release of these stamps! Hope you enjoy my card :)