Here is my submission for Emma's Throwback Thursday challenge. This week's theme was "Back to School" using the Paisley cartridge. This cart has a lot of cute images, but I really haven't used it as much. I made this card for my niece's teacher. Just a little hello note to let the teacher know that she can count on me for any help in or out of the classroom. I also include a $5 gift card to Starbucks :)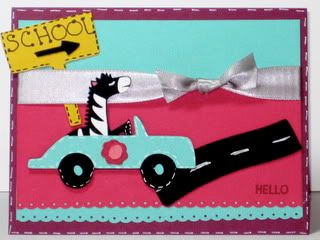 Recipe:
Paisley cart for zebra and car 2"
Paper Doll Dress Up for the road 4"x1"
George and Basic Shapes for the school sign 2" ( I had to hand write the "SCHOOL" because I couldn't find a cart for it)
My Pink Stamper stamp set for the "HELLO"
SU cardstock
EK Success dotted scallop punch
Ribbon from DollarTree